Teacher of the Month: Mrs. Hedgpeth!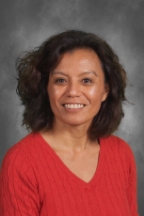 Mrs. Hedgpeth and her two sons.
This week's Teacher of the Month is our new Jr. High religion and 6th grade homeroom teacher, Mrs. Hedgpeth.  
Mrs. Hedgpeth knew she wanted to be a teacher since the age of 16, when she worked at a daycare, something clicked and it felt right.  Since then, she has been a teacher for 25 years.  Mrs. Hedgpeth taught 5th grade for 19 years, 6th grade religion for 5 years and spent 1 year as an assistant principal.  She didn't like being an assistant principal and went back to teaching.
Mrs. Hedgpeth says her favorite part about being a teacher is the kids.  She loves the energy of the kids.  She thinks the best way to learn things is to teach it.
We are excited to have Mrs. Hedgpeth spend her 26th year of teaching with us!  Check back next month to see who November's Teacher of the Month is.
Leave a Comment
About the Contributor
Jessie Morales, contributor
Jessie Morales is an 8th grader who has attended St. Philips for 9 years. This is Jessie's 2nd year on the Falcon's Flyer Staff and her 3rd year on the...