Breakfast Apple Crisps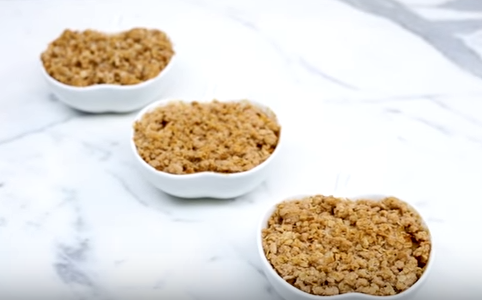 Hang on for a minute...we're trying to find some more stories you might like.
Hello falcons! Today I have a new recipe for you. We're making breakfast apple crisps. These are delicious and great to make for a weekend or holiday breakfast.
This recipe is from the Youtuber Rosanna Pansino.
Breakfast Apple Crisps
4 Large Gala Apples

1 Cup Brown Sugar

1 Cup Old Fashioned Oats

½ Cup Unsalted Butter

¼ Cup All Purpose Flour

¾ Cup All Purpose Flour

¼ Teaspoon Ground Nutmeg

1 Teaspoon Ground Cinnamon

¼ Teaspoon Salt
Directions:
Preheat the oven to 375F.

In a medium bowl, mix the chopped apples in the quarter cup of flour and then place into ramekins.

In another medium bowl, combine sugar, flour, oats, cinnamon, nutmeg and salt for the topping.

Use your hands to mix the butter in to create the crumble topping.

Sprinkle the crumble over the apples and then place the ramekins on a baking tray.

Bake for 30 minutes or until golden brown.

Cool before serving so you don't burn yourself.
I hope you liked this recipe falcons. This is a good recipe to make for breakfast over the holidays. Have fun baking!

About the Writer
Antonia d'Auria, Contributor
Antonia d'Auria is eleven years old and she is in seventh grade. She plays the violin as a hobby. Antonia likes to read and spends most of her free time...