Bottega Louie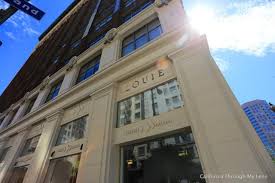 Hang on for a minute...we're trying to find some more stories you might like.
Bottega Louie is located in the heart of Downtown LA. Serving a variety of delicious Italian and French cuisine, the restaurant is well known around the area. My mom was invited here for her birthday, and loved it so much she took me the next day!
I ordered margherita pizza, and my mom ordered pasta. We shared our meals and wow, I've never been so full with such good food. To finish off our meals we ordered some sweets. One of the foods this restaurant is well known for is its beignets. So we went for it, and ordered a plate! They were absolutely amazing and deserved all the rave. Not only the food was amazing but all the employees, made it even more enjoyable. It was such a great experience! For a moment it felt like I was in Rome or in Paris, but just while later I was back to LA. I highly recommend trying this restaurant, one day.
Depending on traffic from Pasadena it takes about 20 minutes to get there. There is a parking structure near, and valet parking right in front of the restaurant. One part of the restaurant is more like a cafe while the other is more like a restaurant. You get to choose where to dine, and get to enjoy the same delicious food. If you have gone or been to Bottega Louie comment how your experience! Hope you enjoyed.