Drama Club 2018 Starts
Every year, St. Philip's has two plays: the fall play and spring musical. We may not see it, but there is a tremendous amount of work that goes into each production. I interviewed Ms. Natalie, one of the leaders of the drama club, to see what exactly happens behind the scenes for each play. The fall play will be the play titled "Sherlock Holmes and the 1st Baker Street Irregular." Here is the description for the play: "After a dare the main character, Wiggins, finds herself working as an apprentice to Sherlock Holmes. With the help of her friends, Wiggins assists Sherlock Holmes in solving two mysteries. The play is based on the Sherlock Holmes stories: "The Red-Headed League" and "The Adventure of the Blue Carbuncle". Rehearsals are on Tuesdays, Wednesdays, and Thursdays. According to Ms. Natalie, actors must enjoy acting and be able to work well as a team. Anyone in 5th grade and above can join the drama club. The play is on November 16th – 18th. I love watching the plays, and I hope to see you at the next one!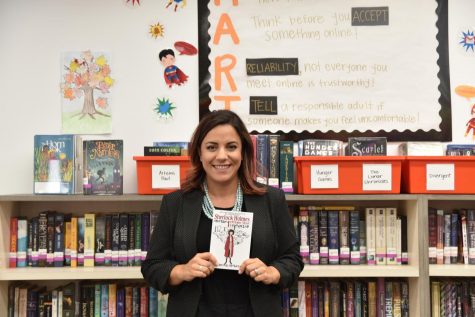 CAST LIST
Ella Arroyo: Catherine
Henry Bautista: Hope/Breckinridge
Reagan Bean: Spaulding/Clay
Ava Delawari: Anna
Wyatt Dupre: Baker
Jackson Dye: Horner
Isabella Conde: Wilson/Ryder
Alejandro Leyva: Ross/Tough #2
Ella Mechosos: Landlady/Tough #4
Skylar Medina: Sherlock Holmes
Caroline Mitchell: Dr. Watson
Jessie Morales: Toby
William Nightingale: Lestrade
Izzy Norton: Mary/Tough #1
Violette Puccia: Wiggins
Ivana Salazar: George
Claire Sather: Lucy
Joseph Schimmoller: Merryweather/Tough #3
Bryan Tom: Constable
Alana Valer: Oliver
Abigail von Wolffradt: Mrs. Hudson
(IF YOU ARE INTERESTED IN JOINING STAGE CREW, PLEASE CONTACT MR. W)
About the Writer
Arthur Camara, Contributor
Arthur Camara is in the 7th grade. He enjoys the Legend of Zelda, Fortnite, and the Flash. He likes writing about pop culture, technology, videogames,...