Director of "Wonder" comes to St. Philip
Recently, the director of the movie Wonder, Stephen Chbosky, came and spoke with grades 5-6. I was lucky enough to attend his presentation, even though I am not in any of those grades. Mr. Chbosky allowed us to ask him different questions, and he was able to answer most of them. The following are some of my favorite questions asked at the presentation, and his responses.
When asked what his favorite quote from Wonder is, he replied this quote: "August is the Sun. Me and Mom and Dad are planets orbiting the Sun. The rest of our family and friends are asteroids and comets floating around the planets orbiting the Sun." He stated that one of the biggest problems that he faced while filming Wonder was filming with Jacob Tremblay (who plays Auggie). Due to the fact that he is a minor, they could only film with him for a certain amount of time per day. Another question that was asked was, "if you could change anything from Wonder (the movie), what would it be?" He said that he would add the scene in which Auggie is talking about Daisy being in heaven. His favorite character from Wonder is Via. This is because she "spoke" to him due to the fact that she is relatively ignored throughout the book/movie. Mr. Chbosky said that his favorite part from Wonder is the graduation scene when Auggie receives the award. His favorite genre of movie to direct is realistic fiction about kids and/or teens. When (I!) asked what it was like directing Wonder, with it being such an emotional book, he stated that it was a fulfilling experience and that it was one of the best things he ever did. Last, the most important question was asked: [Does he] prefer USC or UCLA. To this question, he obviously responded USC!
Those were just a couple of questions that were asked during his presentation. His talk was great, and I hope this article gave you an idea of what was discussed in the presentation. Did you enjoy Wonder? Who is your favorite character? Did you prefer the movie or the book?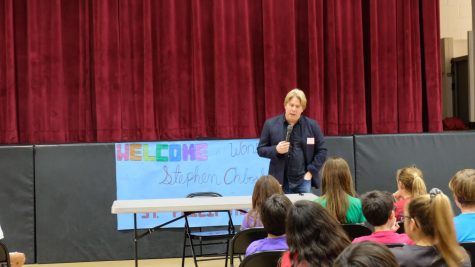 About the Writer
Arthur Camara, Contributor
Arthur Camara is in the 7th grade. He enjoys the Legend of Zelda, Fortnite, and the Flash. He likes writing about pop culture, technology, videogames,...