Out and About: New York City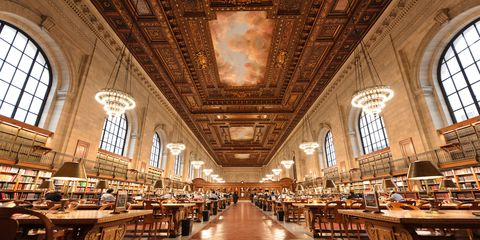 Welcome to another article of Out and About, today we will be exploring New York City. Today we will be exploring what to do in New York City and great places to visit. In New York City there are so many historical and memorable places that you can visit. Of course, you should try to see a play.  Whether the play is off or on Broadway, the play will be impossible to forget. Another great and scenic place to visit is the New York City Public Library. The library has a large collection of books to look at and includes a room dedicated to pictures of historically significant people. In New York City there are many notable restaurants to visit.  The first place for both sweet and savory food to visit is New York's, Grand Central Market. Similar to Los Angeles's Grand Central market, the market provides affordable places that serve fresh produce and seafood. For a sweet treat, you can also visit Schmackary's, Schmackary's also has things like hot chocolate and hot apple cider. Well, that's New York City, I hope you make plans to visit soon.
Leave a Comment
About the Contributor
Joe Krasnowski, Contributer
Joe Krasnowski is a eighth grade student that enjoys walking and playing with his dog as well as play baseball in his free time. His favorite Sport is...