Speech Results: 4/10/2021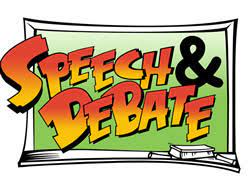 Hello Falcons!
On April 10th our SPAS speech team competed in another SCJFL (Southern California Junior Forensics League) tournament, Our team was made up of 6th-8th graders and in all we competed in five different categories: Dramatic Interpretation, Impromptu, Poetry, Sight Reading, and Storytelling. We had two students who double-entered (when someone competes in two categories). Claire Sather (7) competed in Impromptu and Sight Reading and Reagan Bean (8) competed in Dramatic Interpretation and Poetry.
Our team worked very hard with the help of Mr. Jonathan, Mrs. Bello, Mrs. Garnett and Mr. Yniguez. 
In this tournament three of our students went to compete in the final round in four separate categories. 
Results:
Dramatic Interpretation: Reagan Bean 6th Place
Poetry: Reagan Bean 6th Place
Sight Reading: Claire Sather 3rd Place
Storytelling: Rocio Castro 3rd Place
Congratulations to our team! If you missed the opportunity to compete this year you can still compete next year.