Halloween Treats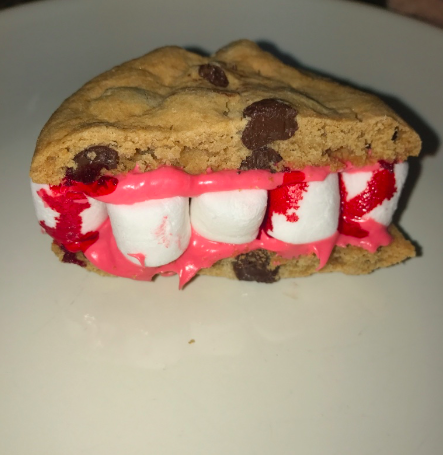 Hang on for a minute...we're trying to find some more stories you might like.
Halloween is one of my favorite holidays and I hope it is one of yours to. I like to go all out for Halloween, decorate my house and have Halloween parties. This week in honor of Halloween I am going to be making some Halloween treats. I found a few recipes that are easy and simple . These are also guaranteed to impress guests at your Halloween party or even just a get together with your friends.
1st treat:
Bloody Dentures:
Ingredients:
Chocolate chip cookies

1 bag of Mini marshmallows

1 can of White frosting

Red food coloring
Instructions:
First, Cut your chocolate chip cookie in half

Next, Put your frosting in a bowl and mix in red food coloring to make the frosting red

Then, Spread some frosting on each half of the cookie

Then, Place marshmallows around the semicircle on the cookie where the frosting is like a border

Lastly, once you have a border place the cookie with marshmallows on a surface and place the other half of the cookie on top
2nd treat:
Halloween Trail mix:
Ingredients:
Microwavable popcorn

White chocolate

Milk chocolate

M&M's of any kind

Candy corn

Parchment paper
Instructions:
First, Microwave your popcorn as instructed on your popcorn box

Then, Spread your popcorn out on a parchment lined tray

Next, melt your chocolate in 15 second intervals

Then, drizzle your melted chocolate over the popcorn

Lastly, sprinkle over the M&M's and candy corn, let chocolate harden and you're good to go
3rd Treat:
Strawberry Ghosts:
Ingredients:
Strawberries

White chocolate

Dark chocolate

Parchment paper
Instructions:
First, melt your white chocolate in the microwave with 15 second intervals

Then, dip your strawberries into the white chocolate and transfer onto a pan lined with parchment paper.

Next, Let the White Chocolate harden and then melt your dark chocolate

Then, take a Q tip and dip the Q tip into the dark chocolate and make dots for the eyes on the white chocolate covered strawberry

Lastly, put in the fridge to completely harden
That is all of the Halloween treats that I found and thought were super simple. These are honestly so good too. This is even a fun thing to do if you're hanging out with your friends and have nothing to do. My personal favorite is the strawberry ghosts. I hope you guys get a chance to try out these super fun Halloween treats.

About the Writer
Sasha Kalpakoff, Contributor
Sasha Kalpakoff is 12 years old and in 7th grade at st. Philip the apostle school. She lives in Pasadena, California with her parents and her cat named...