Yosemite Trip Preview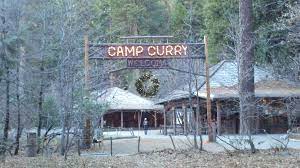 Yosemite National Park is a beautiful valley located in the Sierra Nevada mountains.
Curry Village is a network of sleeping quarters, and it also happens to be where 6th and 7th grade will be staying for their October- November Yosemite trip.
Here's what they can expect:
Heated tents

Fine showers (with warm water)

Medium sized tents

A few stores and restaurants, including a good pizza restaurant
The Curry Village showers are very nice, and have warm and cold water. There are two shower complexes, one newer than the other. The staff tend to say the new ones are better.
Curry village is a network of "yurts", which are basically just fancy tents. It is highly beneficial for students to remember their tent numbers to avoid getting lost in the village, as it is quite large. There will also be a container outside the tents that is considered "bear proof", where students have to leave toiletries, food, drinks, and anything else necessary.
Tents are provided with blankets and heaters. The heaters don't always work, and the staff can be notified if they don't. The size of the tent will depend on how many people there are. There is a maximum of four campers per tent.  For those who have a two-person tent, it will just be a little smaller.
Curry Village has a few shops and restaurants in the vicinity, just down a dirt road. For groups who eat there, the fish tacos are incredible. Some groups may have a separate eating area and meal selection. 
The site where students stay is quite beautiful in the fall. Do take photos there, it is important to preserve the memory.
The last tip students should remember is, don't try breaking the rules and eating in the tents. Doing so will attract bears, which would make for an uncomfortable situation.
Finally, no source of electronics will be permitted for use during the trip.
The 6th and 7th grade students will absolutely enjoy this trip and have a wonderful experience in Yosemite National Park!
View Comments (1)