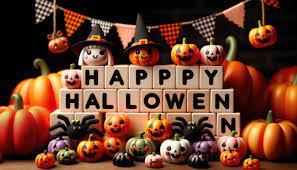 Most readers think of Halloween as a time to dress up and get candy.
It is a time to run around with friends in search of the 'full-size bar' houses.
This is fun, of course, but the Halloween known today is much different from what it resembled in the past.
Believe it or not, Halloween is still pretty new, and "trick or treating" has only been popular and widespread in the U.S. for fewer than a hundred years.
Halloween was first practiced by Celtic people about 2,000 years ago. These people lived in modern-day Ireland, the U.K., and northwestern France.
They held a festival marking the end of summer and the start of the dark winters ahead.
The people would bring together food and have a big party. At this party, new laws were stated and elders shared stories.
During Halloween, Celtic people believed they could communicate with the dead, and that the departed held secrets for them.
More recently, relatively speaking since it was approximately 800 years ago, the Catholic Church made the day after Halloween, All Saints Day, a day to celebrate all the saints in the holy church.
Now for Halloween, some fun traditions in the U.S. include carving pumpkins, dressing up in costumes, and (of course) trick or treating.
These traditions all came from early settlers who brought their country's practices.
One example are the legends surrounding witches, which came from Germany.
However, that's not how everyone celebrates.
In Mexico, Dia de los Muertos or "Day of the Dead" is celebrated over a two-day period, from November 1st through November 2nd.
On this day relatives visit the graves of loved ones and eat special foods. 
Halloween has evolved over the years and gathered new traditions along the way.
What are some of the traditions your family celebrates on Halloween?