Peacebuilder of the Week: Neci
This week's peace builder of the week is Neci. Neci is a 6th grader who plays for the school's volleyball and basketball teams. When a student is as a recognized peace builder they get a peace builder principal prereferral.  This is when a teacher recognizes you doing a random act of helpfulness, for example, if one of your fellow students drops their books in the halls and you help pick the books up for them. When you get a peace builder principal prereferral that student or students are recognized in Monday assembly and get a peace builder shirt. Neci got this peace builder principal prereferral from Mrs. Slater for always helping out their school family and being a great role model for the younger students in their family. Next, I asked Neci some questions.
The first question I asked Neci was, "What inspires you to be a peacebuilder?" She said that "Reading Wonder in the 5th grade is what inspired her to choose kind". The last question I asked her was, "What do you recommend for people trying to be peacebuilders?" She said that "You should always be kind, love all, and try to help others."
In conclusion, Neci is a really nice girl and deserves a peacebuilder principal perferral.
Leave a Comment
About the Contributor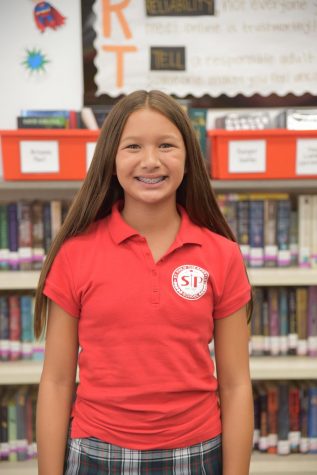 Nicole Smith, Contributor
Nicole's a 7th grader that enjoys baking and playing soccer.