Entertainment: Five Feet Apart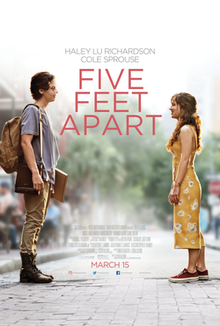 Five Feet Apart is a PG13 movie directed by Justin Baldoni. The main characters are Haley Lu Richardson as Stella and Cole Sprouse as Will. The movie is about Stella and Will, who are falling in love but, there is one problem they both have Cystic Fibrosis. When you have Cystic Fibrosis you have to be 6 feet apart at all times. The movie is trying to show that you can still love each other even if you can't physically touch each other. When you have Cystic Fibrosis you have lung problems and you are basically breathing borrowed air. Every five years you need new lungs so most patients stay in the hospital for most of their life waiting for new lungs. Watch Five Feet Apart to find out what happens to Will and Stella.
Leave a Comment
About the Contributor
Nicole Smith, Contributor
Nicole's a 7th grader that enjoys baking and playing soccer.