Mrs. Rittichier: Teacher of the Month
Mrs. Rittichier is the Teacher of the month this month and she teaches TK. She has told me a lot about how she likes TK and her life before she started teaching here. She loves teaching little kids and they do fun things almost every day. She loves how the kids are excited to learn and do fun activities. She said that being a teacher for TK is like being a mother and that's part of the reason she came back to work. She has kids and she misses taking care of them when they were young. Way back 35 years ago, Mrs. Rittichier started teaching. She loves to plan lessons. She makes sure that the lessons are hands-on fun, but educational. She uses social media to help her plan lessons. When she was a kid she had jobs like volunteering in youth centers, being a camp counselor to kids with special needs, volunteered in many schools, and was a nanny. Some hobbies that she has are reading, hiking, swimming, and spending time with family. She said that the TK kids have grown a lot and they're excited for the end of the year. She thinks that they are much more independent, that they are all ready for kindergarten, and they're a great group of kids. At the beginning of the school year, she says that they were very shy, unsure, not confident, but they've grown a lot and they can be more independent and articulate. She loves the TK program and she's very excited about developing it. Well, that's all you need to know about our TK teacher, Mrs. Rittichier.
Leave a Comment
About the Contributor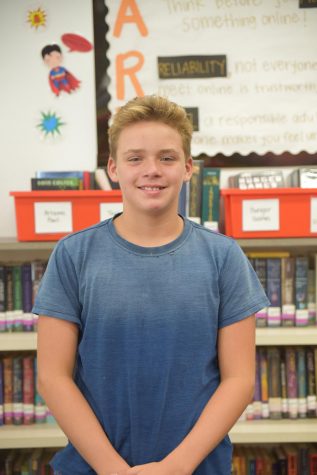 Will Crowley, Contributor
Will Crowley is in seventh grade. He plays sports such as swimming, football, and basketball. He enjoys writing about sports, video games, and movies. ...