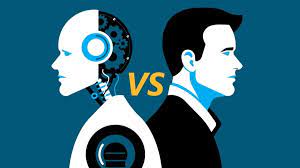 In today's advanced, fast-paced world where there are thousands of different AI robots (or bots) to give an answer to your every question, make amazing paintings, filter photos, and more. it's hard to tell if something is real or AI-generated.
AI, or artificial intelligence, is the function of machines or software, instead of the intelligence of humans or other living things.
Artificial intelligence is so advanced that it can almost be a bit scary, since advanced AI systems can autonomously use deception to escape human control.
These systems make it possible to cheat safety tests imposed on them by developers and regulators, leaving them able to do dangerous things.
What the future will look like as A.I. becomes more widespread is a popular conversation topic in 2023, and it is really anyone's guess as to exactly what will happen.
Some people are convinced that robots and artificial intelligence will take over the world one day.
Others, however, say there is no reason to panic.
The only thing for certain is that A.I. is probably not going away, and it will continue to impact the lives of humans in many ways moving forward.