Pet of the Week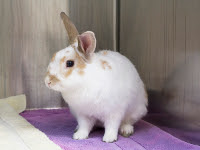 Hang on for a minute...we're trying to find some more stories you might like.
Adopting from a shelter can be a very good idea.  If you adopt at a shelter, you can get a new best friend and you also help save an animal. When you adopt at the Pasadena Humane Society you will also receive a free follow-up check up at a veterinarian that is a part of the Pasadena Humane Society, a microchip, and a spay or neuter surgery.  All proceeds go back to the Pasadena Humane Society.
Bunny Facts:
Rabbits teeth are constantly growing so they need to wear down their teeth by chewing on things such as timothy hay, special sticks, chew toys, or anything rabbit friendly.
Rabbits only live about 6-10 years (but some have made it to their teen years).
They can be litter trained.
All rabbits have different personality's. Some are outgoing and friendly, while others can be more shy and tentative.
Rabbits are herbivores.
There can be different breeds of rabbits (ex. shorthaired rabbit, longhaired rabbit, lop-eared rabbit)
Rabbits are nocturnal but are the most active at dawn and dusk.
Meet Pan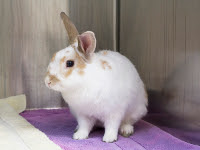 Animal: Rabbit
Description: A Male (not spayed), White Shorthaired Rabbit With Blue Eyes
Age: Around 2 Years and 8 Months
ID #: A382356
Where Is He: Pan is currently at the Pasadena Humane Society
How Long Has He Been At The Shelter: Around 2 Months (since July 18, 2015)
Personality: Friendly and Curious
Favorite Food: Timothy Hay
Adoption Fee: $15
Shelter: Pasadena Humane Society
If You Are Interested In This Animal Please Contact The Pasadena Humane Society Or Look On Their Website (www.pasadenahumane.org)
Phone Number: (626)-792-7151
Address: 361 S. Raymond Ave.
*Adopting a pet is a serious decision that should be discussed with the whole family.*
About the Writers
Lindsey Michelena, Contributor
Lindsey Michelena is in Ms. O'Toole's 8B homeroom. Lindsey participates in Drama Club, Speech and Debate, Track, Cross Country, Girl Scouts, and of course,...
Claire Altovar, Contributor
Claire Altovar is in 8th grade in Ms. O'Toole's homeroom. Her favorite subject is social studies. She has a sister who is a senior in high school. She...