Marugame Monzo Udon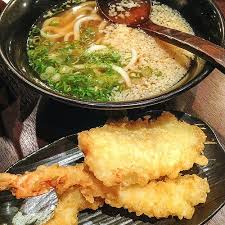 A few weeks ago, I went to a restaurant in Little Tokyo which is in LA. It is a Japanese restaurant that is known for their fresh made udon. Udon is a kind of soup with doughy noodles.When my family and I got to the restaurant we had to wait 1 hr and 45 mins. But it was worth the wait because they were very welcoming and treated every customer like they are royalty. I ordered one of the dishes that they are famous for and that is the Shrimp Tempura Udon. It was a regular soup with crunchy- battered shrimp on the side. I tasted it and it was the best soup I have ever tasted! It wasn't too salty or bland, it was just right. The restaurant is open late on the weekends (10:00). Their most popular dish is the Seafood Tomato Cream Udon. It is a creamy dish and you could get other dishes that are clear. I recommend going there because they have great food for everyone in the family including kids and adults! Hope you enjoy my review and don't forget to read next week's article!
Leave a Comment
About the Contributor
Noelle Chua, Contributor
Noelle Chua has been a student at St. Philip the Apostle School for 9 years and is currently a member in Student Council. She likes writing about sports,...