Holes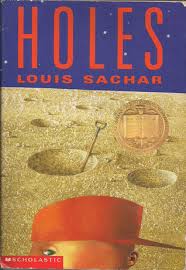 This week's 3rd – 5th grade Reader's Corner book is Holes by Louis Sachar. The book is about a young boy Stanley Yelnats whose family is cursed. One day Stanley is framed for stealing shoes and is forced to go to a camp called Camp Green Lake which is a camp for troubled boys. While at that camp, they are forced to dig holes five feet across by five feet deep. The warden at the camp says they dig the holes to build character. While at the camp, Stanley quickly makes friends with a boy named Hector Zeroni because they both know that the warden has another reason for the boys to be digging holes. Read Holes by Louis Sachar to find out if Stanley can help his family get rid of the curse and to find out why the warden is forcing them to dig holes.
Leave a Comment
About the Contributor
Nicole Smith, Contributor
Nicole's a 7th grader that enjoys baking and playing soccer.