The Playbook by Kwame Alexander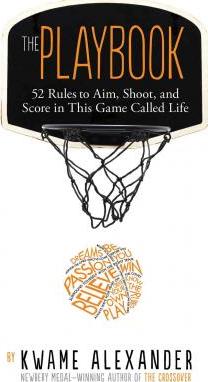 The Playbook is (in my opinion) an excellent book for everyone. The book gives inspiration and has quotes from famous athletes such as Serena Williams and Kobe Bryant. In the book, the writer Kwame Alexander writes about his own life in sports. I learned that he wanted to be a football and basketball player to be "cool" in high school. He kept on trying to do cool things in those sports and he didn't listen to his coach so the coach kicked him off the team. He then started to play tennis and that was his sport. He did well and he liked it but he was nervous that he wouldn't be cool at school but people liked him a lot and he became one of the cool kids. That shows you don't need to do "cool" things to become "cool", just be yourself. That's not what I just learned. Sometimes I read some of the inspirational quotes before I played in a big game and I did well. Here's an example,"'If you're afraid to fail, then you're probably going to fail.'" That quote was from the basketball player Kobe Bryant. As you can tell this book really helps you with life and I would recommend it to anyone who wants to read about sports and life.
Leave a Comment
About the Contributor
Will Crowley, Contributor
Will Crowley is in seventh grade. He plays sports such as swimming, football, and basketball. He enjoys writing about sports, video games, and movies. ...