The First Robot Citizen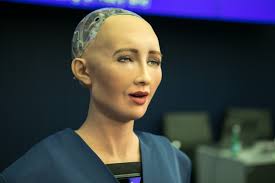 The First Robot Citizen
In Saudi Arabia, a robot named Sophia is the first robot citizen in the world. She can communicate with people and she can tell you her feelings by changing her face expressions or personally telling you. Sophia had an interview on October 6th 2017 in Saudi Arabia's capital, Riyadh. This interview was to show people how she acts and works. Many inventors, thought leaders, and public officials gathered at this event to brainstorm future ideas. The government gave citizenship to Sophia because she was created to help the senior citizens and help visitors in a park by showing them what is around. The creators of Sophia are planning to make more robots so they will help people in the future!
Citation: Meera Dolasia. "Video Of The Week — Meet Sophia, The World's First Robot Citizen." DOGOnews, DOGO Media, Inc., 30 Oct, 2017, www.dogonews.com/2017/10/30/video-of-the-week-meet-sophia-the-worlds-first-robot-citizen. Accessed 16 Nov. 2017.
About the Writer
Noelle Chua, Contributor
Noelle Chua has been a student at St. Philip the Apostle School for 9 years and is currently a member in Student Council. She likes writing about sports,...