The Story of St. Patrick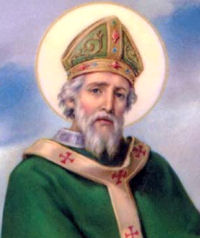 Saint Patrick is the well-known patron saint and apostle of Ireland. He brought Christianity to Ireland and is most likely responsible for the Christianization of the Picts and the Anglo-Saxons.
Patrick was born in Britain and was raised by a romanized family. He was captured by Irish raiders at the age of 16 and was sent to Ireland. He spent 6 years as a herdsman, where he learned about his faith. Patrick then escaped Ireland to return to Britain, struggling through starvation and a brief second captivity. He later reunited with his family. While there, he had a dream to bring Christianity to Ireland, and so, he returned to Ireland to complete his dream.
Patrick traveled far and wide throughout Ireland, baptizing chiefs, lords, kings, and even whole clans and armies. He built the first churches in Ireland, bringing many people to convert and get baptized. A popular legend states that he explained the Holy Trinity by using the shamrock, which is why that is one of the main symbols of this holiday. He is also said to have rid Ireland of snakes by sending them off to the ocean to their deaths. 
Toward the end of his life, he retired and went to Saul, Ireland, where he would write his Confessio, or confession of what happened to him in his childhood. On March 17, 461 A.D, Saint Patrick died at Saul. It wasn't until around the 1630s when he was canonized as a saint, with his feast day on the day of his death. On March 17, 1737, the first St. Patrick's day was celebrated. And from there on, on each feast day of Saint Patrick, we celebrate Saint Patrick's Christian acts, good deeds, and compelling stories of his times in Ireland, and how each day, he grew closer to God.
View Comments (2)