Movie Review: Black Adam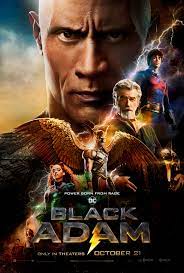 Black Adam is a DC movie that came out in October, 2022. It made 352.2 million dollars in the Box Office, and its budget was around 200 million. It did not get great reviews, rating a 7/10 from IDMb and only 40% on Rotten Tomatoes.
In this movie, Teth Adam was bestowed the almighty powers of the gods. After using these powers for vengeance, he was imprisoned, becoming Black Adam. Nearly 5,000 years have passed, and Black Adam has gone from man to myth to legend. Now free, his unique form of justice, born out of rage, is challenged by modern-day heroes who form the Justice Society: Hawkman, Dr. Fate, Atom Smasher and Cyclone.
I personally think that this movie is only ok. I do think that the CGI looked stellar, but the plot didn't feel well-paced and to me, the backstory seemed a little confusing. Dwayne "The Rock" Johnson did a pretty great job playing as Black Adam, but some of the side characters weren't as good. However, Pierce Brosnan had an excellent performance as Dr. Fate, and was definitely my favorite character in the entire movie.
Overall, I think that this is a decent movie and should be watched by all superhero movie fans. Also, the producers of Black Adam were interviewed and said that fans should expect a sequel to the movie, despite its mediocre reviews, so make sure to look out for that!Bla
Leave a Comment