NBA Finals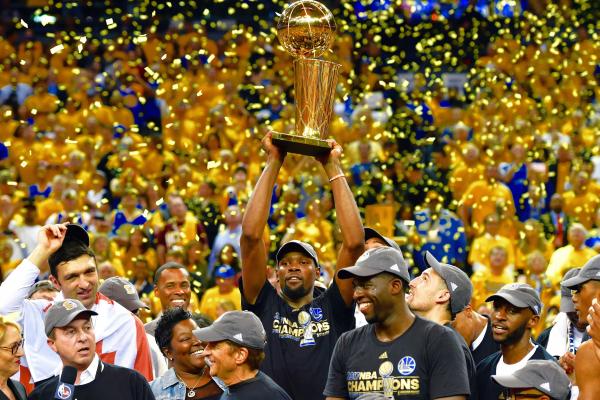 This year's NBA Finals is a highly anticipated matchup between the defending champions the Cleveland Cavaliers and the Golden State Warriors who have faced each other in the finals for the third straight season. These two teams having faced each other the last three years with the Warriors winning in 2015 and the Cavaliers coming back in the series down 3 games to 1 in a seven game series to win the finals last year. The Cavaliers and Warriors both dominated their way into the finals for the Warriors they went 12-0 by sweeping every team they face and the Cavaliers going 12-1 only losing once to the Celtics. During the offseason the Warriors lost a few players, but added a former MVP Kevin Durant. Kevin Durant joins Klay Thompson who won the 3 point contest 2 years ago, Draymond Green, and two time MVP Stephen Curry. The Cavaliers team consists of 4 time MVP winner Lebron James, Kyrie Irving and Kevin Love. So as you could expect people had high hopes for this series, but in game one on Thursday June 1st, the Warriors came out on their home court and dominated the Cavaliers in a 113- 91 victory. With the Cavaliers now down 1 game to nothing many expected a good fight from the Cavaliers in Game two to even up the series at 1 on June 4th, but once again the Warriors handed the Cavaliers a 19 point lose. With game three approaching the Cavaliers need to find a way to stop and defend the Warriors offence.
Update: The Golden State Warriors won on Game 5 129 to 120.
Leave a Comment
About the Contributor
Luke Mendez, Contributor
Luke Mendez is an eighth grader is Mrs Bello's 8B class. He likes to play football, water polo, soccer, and run track and cross country. He likes to go...