Counting By 7's-Book Review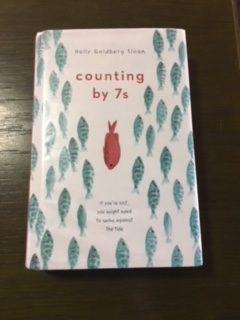 Counting by 7's by Holly Goldberg Sloan is a fantastic novel about an exceptionally smart girl named Willow. Willow has just transferred schools, her parents hoping she'll fit in better when her principal thinks she was cheating on a test and sends her to the school counselor. There the school counselor learns that Willow might as well be labeled genius, and Willow meets some new friends. Her friends she meets at counseling convince their counselor to drive them home. At her house, there are police everywhere telling her that her parents died. How will she deal with this traumatizing experience, and where will she live? Read to find out.
I would rate this book a 10/10 and would definitely recommend this book to a friend. Willow has this presence about her that makes you want to know more and keep reading. In this book, Willow also makes new friends and learns more about herself. Counting By 7's is a great novel for anyone that enjoys realistic fiction and a great read. Make sure you put this book on top of your reading list!
Leave a Comment
About the Contributor
Madeleine Schnieders, Contributor
Madeleine is a creative 7th grader at St. Philips that's a great procrastinator. She participates in track, basketball, speech and debate, and falcons...