Cooking: Halloween Treats
This week for cooking we have Halloween treats.
Ingredients:
48 marshmallows

6 cups of Rice Krispies

4 tablespoons of butter

1 whole bag of white candy melts

Food coloring in orange, green, and blue

Betty Crocker candy eyes
Directions:
Oil a 13/9in pan

Melt the butter in the microwave for 45 sec or until it is melted, then add the marshmallows and coat them in the melted butter

Then you want to put the coated marshmallows and the melted butter in the microwave for 45 sec or until melted, when all melted immediately add the 6 cups of Rice Krispies into the melted marshmallows

Then put the mixture into the oiled pan and smooth it out and let it cool before cutting

Then divide the candy melts into three different bowls and microwave for 45 sec or until melted

Once melted add blue food coloring to one bowl and orange to another bowl and blue to the last bowl.

Once cool cut the Rice Krispies into large squares.

Then dip the squares into one of the three colored candy melts and add one to three eyeballs while the candy melts are still wet.
Leave a Comment
About the Contributor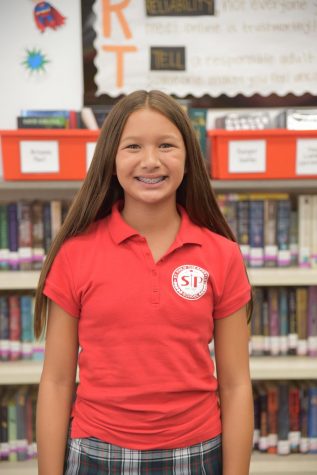 Nicole Smith, Contributor
Nicole's a 7th grader that enjoys baking and playing soccer.